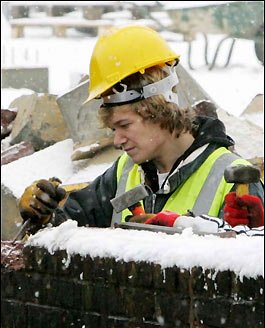 A BRITISH teenager catapulted to fame in Hollywood dragon movie Eragon is now working on a building site.
Ed Speleers was the fantasy hero of 20th Century Fox's Christmas blockbuster.
But weeks after starring with Jeremy Irons and John Malkovich, Ed, 19, is earning £7 an hour as a labourer building a Morrisons store in East Sussex.
Blocks buster ... Ed knocks down icy wall as labourer
A fellow worker said: "It's a far cry from the red carpet. Edward is very much the brickie when he is here.
"He's chiselling walls and puffing cigs in a hard hat and fluorescent jacket. He's a nice, down-to-earth lad."
Ed quit his A-levels at Eastbourne College after Eragon director Stefen Fangmeier chose him from 18,000 hopefuls, calling him "a young Harrison Ford".
Screaming fans greeted him worldwide. But despite grossing £165million worldwide, Eragon got mixed reviews.
Now Ed's slot on film guide the Internet Movie Database says he has no projects on the go.
Ed's agents refused to discuss his labouring job.
But his grandad said from the family home in Essex: "He is on a building site for the next couple of weeks. He is reading scripts and having some interviews."
t.whitaker@the-sun.co